2016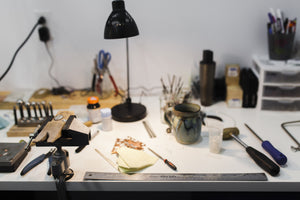 2016 is already full of new and exciting things! First of all, this blog. I've never cared for writing much so you'll have to bear with me.  I'm sure this will evolve into a "photo only blog"-- if there were such a thing, in a few months :).
The biggest new thing is my new studio space which my wonderful fiancé, Jim, built for me. Ive moved from a small spare bedroom on the main floor of our home, all the way down to the basement, in an even smaller room which used to be a storage closet, until now (oh yea, i like to write run-on sentences, like this one)! I know what you're thinking, total down-grade! Its actually really great. The room itself is about 80 square feet which is perfect for now. Jim wired the outlets and new lights, installed ventilation (so I don't die), and secured the new work bench. I am SOOO grateful! 
The layout of this studio alone is a live saver. I'm able to move freely from tool to tool without being interrupted by a full size bed. Just lacking in decor for now ;)!
---
Also in Blog